Hospitality Cleaning Tips For Bars And Restaurants
Click to go to the section you prefer! 
1 Good practice for cleaning a restaurant, bar or cafeteria

2 Cleaning and disinfection process of your restaurant

3 How to remove grease from kitchen furniture?

4 How to clean stainless steel appliances?

5 How to clean the glass and dishwasher?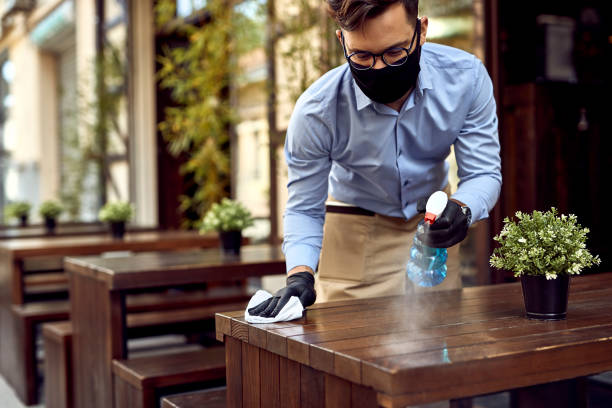 The cleanliness of your restaurant is just as important as the food served. The impression that customers have when they enter a clean place is always good. In addition, dirt can pose a risk to the health of diners and lead to poisoning and financial penalties. For this reason, it is necessary to have a cleaning protocol and no good practices to clean a restaurant, bar, or cafeteria. Next, we give you the best cleaning tricks for your restaurant business and thus guarantee food safety.
Good Practices For Cleaning A Restaurant, Bar, Or Cafeteria
Before starting the cleaning process, remove, and cover

 all food

so that it is protected and does not become contaminated.

After the service is over, clean, and disinfect

 the entire kitchen and living room.

Clean and disinfect all items used during the service as often as necessary, giving priority to items that come into contact with food.

Don't forget

to clean out the trash can.

You can do it when you change the bag, so it's perfect for your next use.

Wash the glasses and cutlery in an automatic dishwasher, making sure to do it on high heat for maximum disinfection.

Allow surfaces to air dry to prevent moisture.

Use a disinfectant after cleaning

and don't forget to rinse with hot water to remove any residue that may remain.

It is very important to pay attention to the cleaning and

disinfection of handles, handles, switches, and taps…
Cleaning And Disinfection Process Of Your Restaurant
To remove all dirt from kitchen utensils and cutlery correctly, a series of steps must be followed. We explain the process you must follow to clean all your utensils correctly:
Prewash:

Moisten with hot water to help remove any soil that may remain on utensils and equipment.

Washing:

Wash dishes and utensils with hot water and detergent.

Rinse:

Use hot water to remove detergent residue and soil from utensils.

Disinfection:

Dry the utensils and apply a disinfectant product to kill microorganisms that have not been eliminated in the process.

Rinse:

Rinse again with hot water to remove any residual disinfectant product and dry with a clean, absorbent cloth.
How To Remove Grease From Kitchen Furniture?
Consistency is paramount when it comes to fat removal, as many people overlook that fresh fat is shed better than stored fat. It is also necessary to take into account the thickness due to the effects of the heat that is generated in the different shifts of a kitchen. The cleaning and disinfection of the furniture in the work area should be included in the list of daily tasks.
There are many degreasing cleaners out there, and they all promise to remove oil from our kitchens. You should read the label of the detergent you use and make sure it contains surfactants to remove oil molecules.
How Do You Clean Stainless Steel Appliances?
Appliances are much more likely to attract grease and grime into the kitchen than the furniture itself. The buildup of invisible microbes compounds the problem on appliances that can contaminate the food that is then served to customers.
Dirty irons, burned stoves, or dirty ovens can give a disastrous image to a bar, cafeteria, or restaurant. They also present serious risks to the safety and health of employees working in the restaurant. Baking soda can be applied very easily with a damp sponge and a little of this product. In addition, it leaves the steel shiny and with a coppery appearance.
How To Clean The Glass And Dishwasher?
Before putting the utensils that we have to wash in our dishwashers and dishwashers, make sure to remove the largest food debris, as these can accumulate inside the appliance and not drain properly. There are many industrial dishwasher cleaners that give the best results, but one way to make the interior shine is to add a half cup of undiluted vinegar to the rack of your dishwasher or glass washer. Run a full wash cycle (no dishes, obviously) and you'll see amazing results. Cleaned and maintained by a Professional Cleaning Company,